YouTube continues to be one of the most popular social media sites. Although its popularity has declined in recent years – especially in favor of TikTok, it is still a great place to advertise your products, services or brand. With the help of a carefully structured and well-thought-out campaign, you are sure to reach your target audience. Find out how to do it to increase conversions.
How to create an account on YouTube?
You must sign up for a YouTube account if you want to promote your business or product there. You won't have any trouble setting up your profile because it is quite simple. Especially considering that you can do it at no cost. You only need a Google account for this, and based on your needs and marketing objectives, you can select between a company channel and a private channel.
Creating a private account
start by creating a Google account,
log in to YouTube and enable the "Your Channel" option,
fill in information about the channel and about yourself – add a link to your website or social media profiles, name and profile picture,
add content, videos or playlists.
Setting up a company channel
create a Google account for your brand,
log in to YouTube,
create a new channel or use the one you already have,
if using an existing channel, ensure that it is tailored to your brand,
complete the form and adapt the channel to your corporate identity – add your company's logo, contact details, and a link to your website or online store,
if you want many users to access the company's YouTube account, create a channel owner and manager and grant them the necessary access.
How to run a YouTube channel?
The way you manage a YouTube channel and, more importantly, the content you wish to upload there, should be tailored to the purpose that the profile is meant to serve. Consequently, there isn't a single, strict guideline that will tell you how to manage your channel and, more importantly, guarantee your success on this platform. Instead, you can use some of our advice; if you put it into practice, it will undoubtedly be lot simpler to accomplish your goal. Above all, you will organize unique data, distinguish yourself from the competition, and meet the demands of your audience.
Research the target audience
Understanding your audience is the first and most crucial rule of running a YouTube channel. Simply put, you need to be aware of who you want to talk to and what types of subjects they prefer to hear. Keep in mind that YouTube is not just for members of Generations Y or Z. People over 40 have also shown a discernible rise in interest in this service in recent years.
Carefully analyze what expectations your target audience has, how they communicate, the age range of these viewers, and most importantly, the reason they visit YouTube most often. Draw conclusions, and then provide them with tailored content.
Optimize the channel
You need to compete against the large number of extremely intriguing or less useful videos on YouTube and, most importantly, make it possible for visitors to find your channel. Take care of its optimization to achieve this. Use specific, easily searchable titles first, and then include keywords and hashtags in the channel description. You'll be able to reach a wider audience and position your videos far more easily as a result.
Run the channel in accordance with the service terms.
You must adhere to the guidelines for a YouTube channel at all times. If you wish to monetize your profile on this website, you need to bear this in mind in particular. Pay attention to copyright first when it comes to any quotes or scenes you intend to upload. By abiding by these guidelines, you'll decrease the chance that YouTube will suspend your account or remove your video.
Focus on the visual aspects
Another aspect that will grab the audience's attention is the channel's appearance. Make sure that it is consistent with your visual identity first. By doing this, you can be confident that the videos' thumbnails, logos, images, and intros are consistent with your brand.
An excellent method to differentiate yourself from the competition is with a visually appealing channel design. Additionally, it highlights the profile's professionalism.
Analyze and evaluate the success of the taken action
Always verify that the steps you have done are producing the desired outcomes. After all, an increase in the number of people viewing your videos is a clear signal that you should continue in the direction you have set. And, above all, the published materials are hitting the tastes of your audience.
On www.studio.youtube.com, you may quickly analyze your channel's performance. All the information you require can be found under the "Statistics" tab.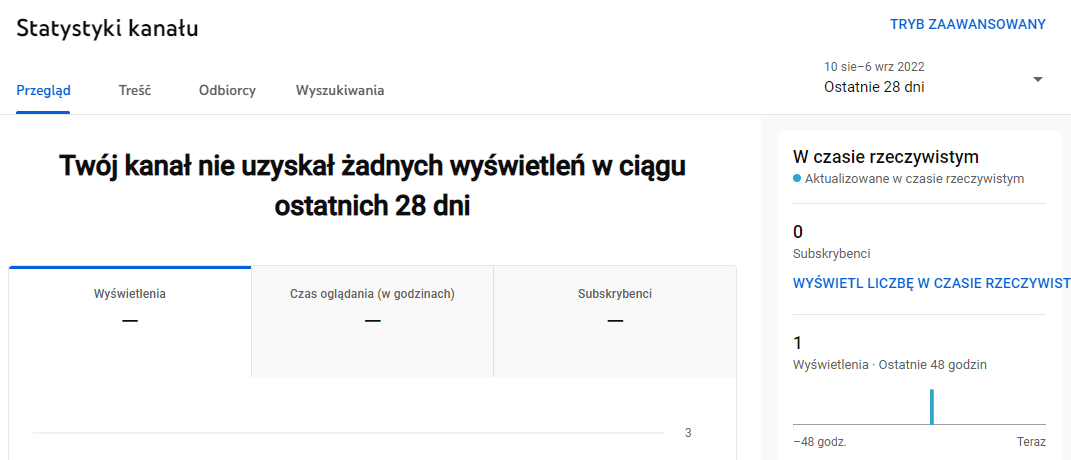 It's also worth linking your YouTube account to Google Analytics for even more accurate and nuanced data.
Publish interesting content regularly
Regularly updating YouTube with new content is crucial. It is ideal to set up specific days of the week for the release of new videos; by informing your audience of this, you will increase your chances of building a devoted following. Additionally, it's crucial to emphasize diversity, interaction with viewers, and covering interesting topics are also of great importance.
You can use either paid or free tools if you're having problems coming up with content for your upcoming items. You can find a long list of topics that will interest your audience by simply typing in a few keywords. You'll also find out how often such videos are searched for and when this happens most often.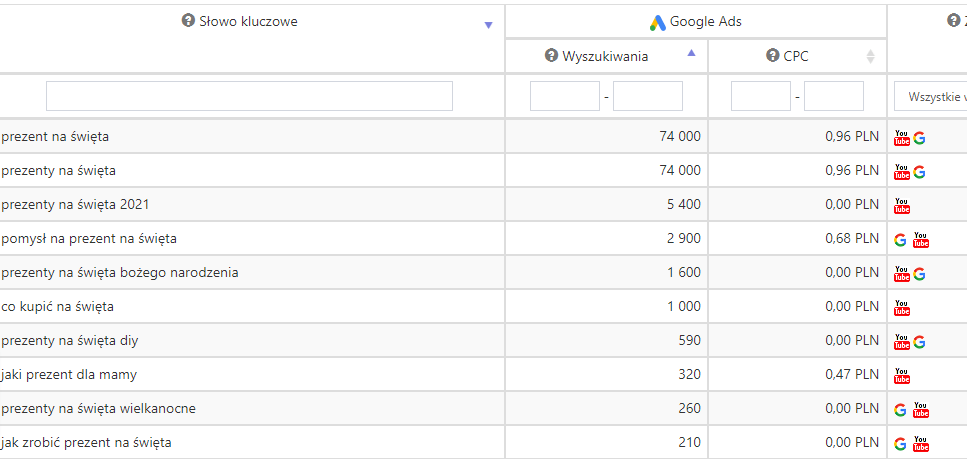 How to make an effective YouTube ad?
Captivate your audience from the start.
To capture your audience's attention and maintain their interest in your offer for a longer amount of time, you must immediately pique their curiosity. You will produce a powerful advertisement if you do this. Keep in mind that you only have 7 seconds to do this. There are numerous techniques that are easily accessible, such as:
using a well-known figure,
asking a difficult or interesting question,
evoking emotion through the use of the right shot,
creating interest in silence or original music – if you are betting on a song, be sure to read the copyright for the song.
You'll undoubtedly come up with a clever technique to get attention. Just keep in mind to adapt the approach to your brand and the demands of your audience.
Mention the brand in the very first seconds
Since you only have 7 seconds to attract users' attention, use this time to promote your brand. This is especially crucial if raising brand recognition is one of your top priorities. Also include branding information in the advertisement's opening frame. The viewer will then remember the brand name even if they skip the ad. You may do this in a pretty subtle way; Allegro is a fantastic example because it uses both the service's name and emblem in the first scene of the clip.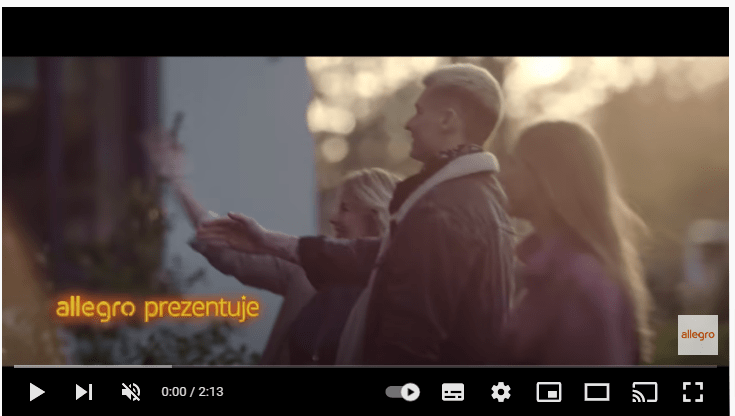 Are you interested in reaching your audience a little later in the path? Therefore, incorporate your brand name within the narrative of your advertisement to keep your audience interested. It is also imperative that you try to evoke emotions.
Evoke specific emotions in the audience
Emotion is the best way to sell, so it's essential to use it in your videos. Creating such content is challenging. And, most significantly, it necessitates experience, competitive analysis, and optimal tailoring towards the audience.
Bringing up contentious subjects is one of the best methods to evoke strong feelings because they almost always elicit replies, which in turn promote thought and conversation. In this instance, the Allegro website and Christmas advertisements serve as a prime illustration because they address difficult subjects like aging, parenthood, infancy, disease, death, love, and altruism.
The benefit of such considerate and moving pieces of content is that they eventually come to represent a specific brand. Viewers are eager to watch and share this content, and above all, they do not skip them as often as informative ads. Statistics on Allegro's ad views illustrate this best.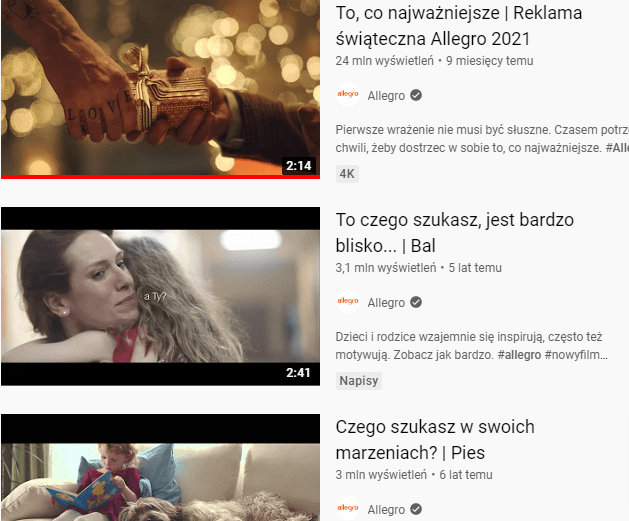 Choose your course of action.
Every advertisement needs to have a purpose since only then its effectiveness can be evaluated. Create a path for your audience to follow; this is very crucial. You can accomplish this in a number of ways, but banner ads and CTAs (calls to action) are the most effective. By doing this, you'll be able to advise potential clients where to go and—more importantly—what to do after seeing the ad.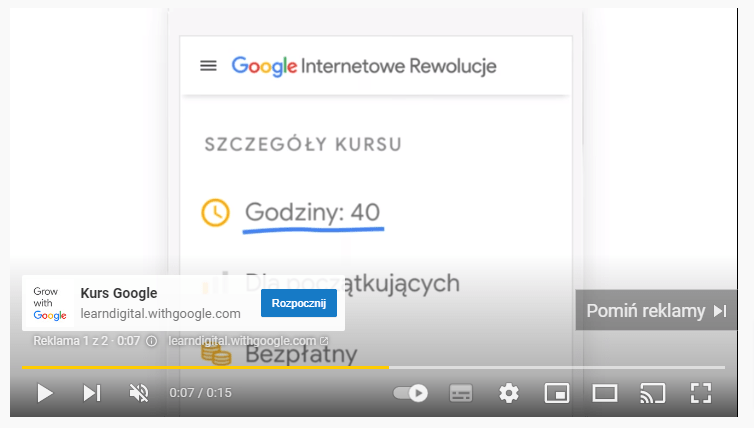 Also keep in mind that you can employ internal linking—that is, links to other videos—even in a YouTube ad. It's preferable if they don't appear at the start of the content since if they do, the audience might skip through too quickly and decide not to watch the video until the end. Links in the second section of the video are therefore more effective in encouraging viewers to watch additional, necessary thematically connected videos.
Create an ad that lasts no more than 60 seconds.
The length of a YouTube ad is crucial. Only a select few brands can afford to produce content that is longer than 60 seconds, and when they do, it's typically tied to a custom or feeling they're trying to elicit. Coca-Cola's Christmas video is a fantastic example of that.
Then, how long should a successful YouTube ad run for? The most popular videos are those that are around 30 seconds length, according to research conducted by Google. However, keep in mind that length is frequently a secondary factor. The message, the narrative, and the achievement of the stated objective are much more crucial.