In recent years, Twitter has evolved from a platform where users could express themselves through hundreds of hashtags into one where businesses could create effective marketing plans. With over 320 million active users each month, it's hardly a surprise that companies continue to use this platform for marketing.
Nevertheless, if it's being utilized for promotion, a quick post with plenty of hashtags is insufficient. On Twitter, just like every other social media platform, you must create a marketing strategy with a specific content plan to engage the audience and accomplish your objectives. According to a Statista analysis, the platform has generated over $5 billion in income, making it one of the most widely used platforms for internet marketers.
With the most recent platform changes and trends, it makes sense to utilize Twitter for marketing in 2023. By doing so, you can directly contact your target audiences and set yourself apart from your rivals, which could be underestimating Twitter's strength and failing to incorporate it into their marketing plan. Read on for the top Twitter marketing strategies, whether you're just getting started or need a quick reminder.

Twitter is still one of the most widely used social media platforms, even though it is not as large as Facebook and is not as popular as TikTok. According to the figures compiled by Datareporter in January 2023, Twitter had more than 500 million active users on the platform monthly.
The United States and Japan now have the most people using Twitter. If you're a business owner, you know these are lucrative niches; if you want to expand internationally, you know that Twitter is the place to do it.
How Well-known is Twitter?
Twitter is a well-known social networking site with 206 million active users per day. The Us, Japan, and India are the three nations that use the network the most.
The channel had a prosperous year in 2021, with revenues increasing by 74 percent to $1.19 billion. Moreover, users increased by 11% in just a year. Wall Street analysts predict a 20% growth in Twitter's revenue in 2022.
What is the cause of Twitter's expansion? Breaking news is made possible by its real-time character and is regarded as a legitimate opinion-sharing network. According to Pew Research, over half of Americans understand current events better, and a third think the platform has increased their political engagement.
Twitter has also added a more robust color contrast of buttons, links, and emphasis to its design, which makes Twitter material simpler to use and read.
Who Uses Twitter?
According to Statista, Twitter is most popular among those in the 25–34 age group (38%), followed by people in the 35–49 age group (20%). Regarding gender, 62 percent of males and 38 percent of women utilize the network.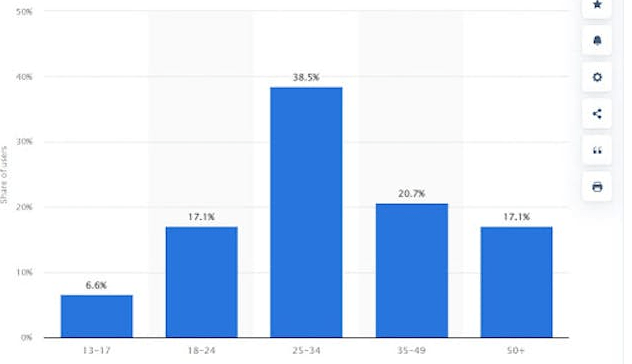 It's interesting to note that Twitter users have high levels of education (42 percent have a bachelor's degree or more) and high salaries (9 percent higher than the typical American).
It also has several famous people and influential people as admirers. Its top 10 accounts include that of Lady Gaga, Justin Bieber, Narendra Modi, Cristiano Ronaldo, and the current prime minister of India. In addition, until he was suspended in 2021 for inciting violence, Donald Trump remained a constant on Twitter.
Who Governs Twitter?
While Jack Dorsey was a team member at podcasting business Odeo in 2006, he founded Twitter. From 2006 to 2008 and again from 2015 to 2021, Dorsey held the position of CEO of Twitter twice. The firm went public in 2013 with a $31 billion market capitalization. Since then, it has developed into one of the most popular websites.
Elon Musk, the CEO of Tesla and SpaceX, shocked the world in April 2022 by announcing that he had agreed to a $44 billion takeover of Twitter. His goal for the network is to realize its potential as a "free speech" platform. Also, he wants to improve functionality, lessen spam, and promote transparency.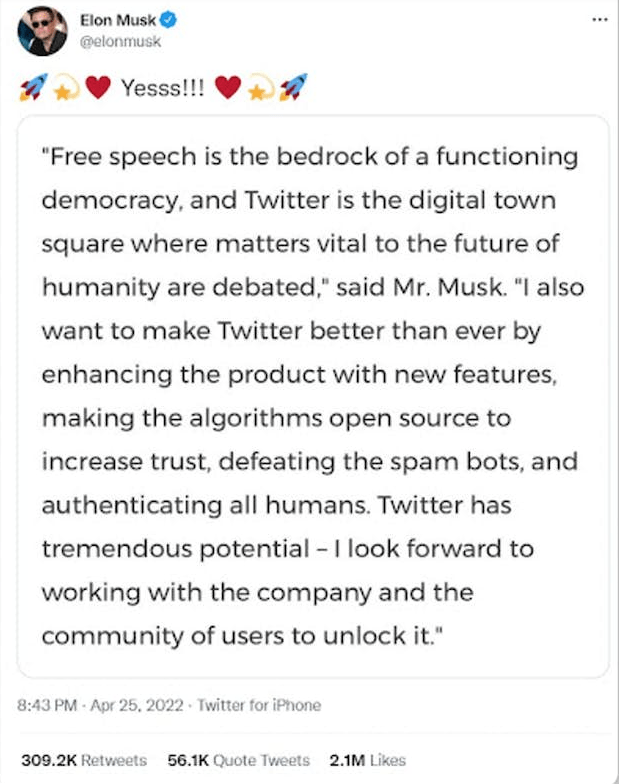 As a result of the takeover announcement's widespread backlash, several users quickly promised to delete their Twitter accounts. Their worries? Several platform users are concerned that this would increase misinformation, harassment, and hate speech since they consider themselves "absolutists" for free speech. Only time will tell how this takeover will transform it.
What Is the Purpose of Twitter?
Marketers, journalists, public relations specialists, companies, and people may use Twitter in several ways. Marketers may utilize it as a social customer channel to engage consumers in the discussion, respond to complaints or inquiries in real-time, and create dialogues. Being a site that is wonderful for comedy and offers the chance to reshare user posts to increase reach and engagement, they can also utilize it to provide personality to their brand.
It works well for the media sector to deliver news at lightning speed, similar to the US Airlines incident in 2009. Even before the media knew it, Janis Krums shared a picture of the occurrence on the Hudson River and unintentionally scooped them.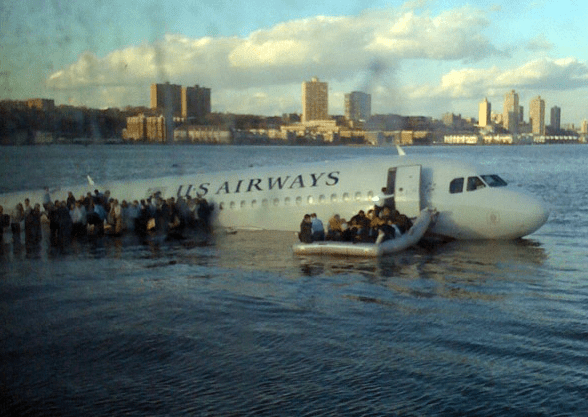 Branding and PR teams might utilize Twitter to publish announcements or introduce new items. It is a great networking tool and facilitates finding rivals and possible partners. Provides a tool to raise brand recognition and avert a social media catastrophe as social branding becomes increasingly significant.
The beauty of Twitter for people is that they may customize their feed using their special algorithm to reflect their preferences. For instance, if you follow a lot of authors or publishers, most of the postings in your Twitter feed will likely be on those topics. It implies that people receive the content they desire.
Twitter is, therefore, an excellent tool for numerous industries to promote interaction. Something that does well on the platform typically includes:
Polls or questions: Twitter polls are quite popular, and they can be an excellent way for marketers to gain a sense of their audience or to submit a question and watch the reaction they receive.
Industry news: It is a wonderful location to disseminate news about your business or spark a debate about a new trend or development; think about how many tweets there are announcing new digital marketing trends!
Company announcements: Pinning a tweet ensures that anybody who visits your page can view it. This is useful for making corporate announcements, such as releasing a new product or promoting an employee to a senior position.
Gifs and memes: Gifs and memes are commonplace on Twitter and often garner much attention from users. Your material can attract more attention in the stream if you employ memes, and Twitter provides a library of ready-to-use animated gifs that you can search for using keywords.
Images: People tweet photos 361% more than video material, so ensure your content mix includes eye-catching photographs.
Blogs: The material of blogs performs well on Twitter; nevertheless, to generate clicks, you need to use an image that stands out and a concise description. To increase the content you publish on your blog, you should investigate some helpful blog tools and layouts.
Events: You may publicize your event in advance to generate interest, but by generating a hashtag, you can also encourage attendees to live-tweet the event, driving interaction with the audience.
Offers and contests: Because of the immediate nature of Twitter, limited editions and flash sales have the potential to be successful, and competitions can attract new followers.
How does Twitter function?
Twitter is a social networking platform that is relatively simple to navigate and utilize. To get started, you must register a free account and select a name for yourself or a handle.
Because so many people use the network, finding an appropriate name could require ingenuity. Consider using a keyword, a shortened form of your corporation, or include an underscore in your handle if your ideal handle is already taken. Make any decision you come up with simple and easy to recall.
Following that, you will be able to begin tweeting immediately. Twitter allows users to compose tweets in a variety of formats, including text, gifs, photos, and polls, among other things. You also have the option to schedule a tweet and designate specific areas.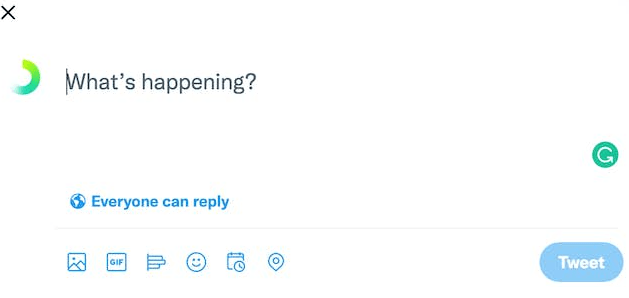 Twitter also has an intuitive interface to use. You may view current topics or news in many subject areas, like entertainment or sports, by going into the "Explore" section of the website.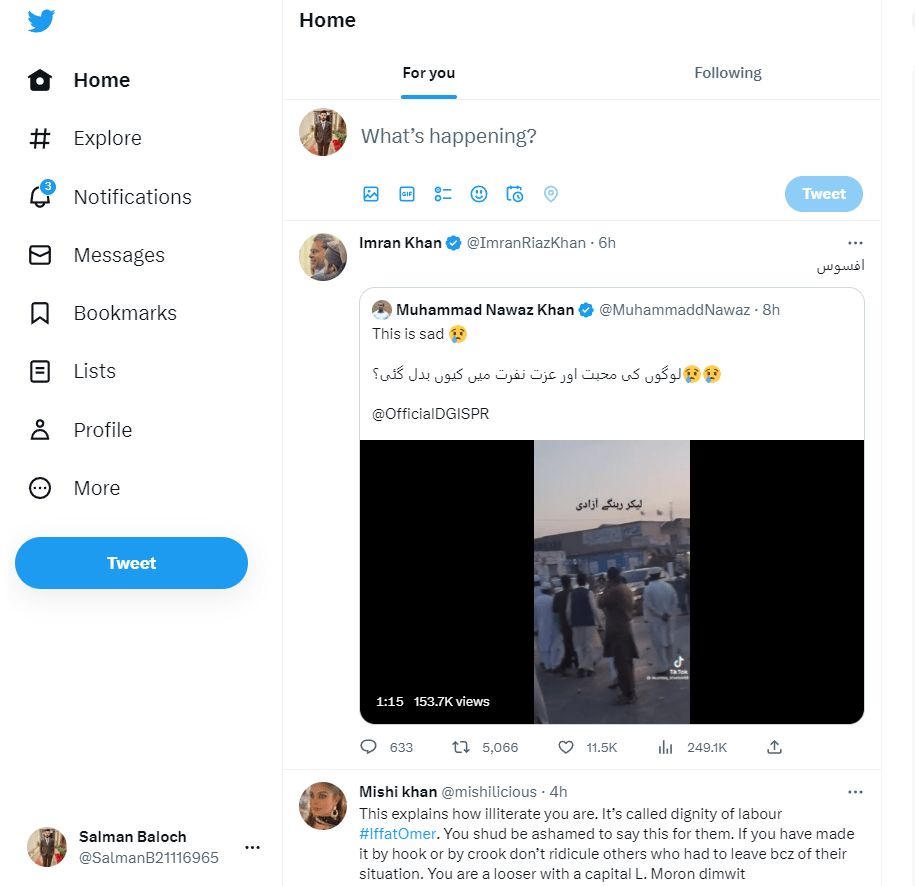 Entering a name or business into the search box on Twitter will allow you to locate that person or brand. In addition, search filters are available on the right-hand side of the page, categorized under individuals and locations. Choose the "Follow" button from the drop-down menu to receive their tweets.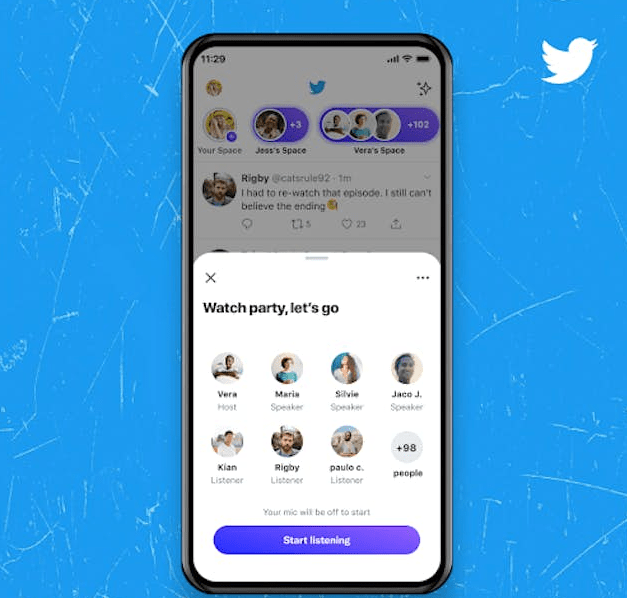 You may retweet someone's tweet, react, like, or share to increase interaction. Retweets are an excellent method to share other users' content, spark a conversation among that person and their followers, and get feedback from that user and their audience. This is a useful strategy for brands that want to increase user engagement within their user base.
Twitter Spaces is a brand new feature that may be an attempt by the company to compete with the audio app Clubhouse. This feature pertains to audio material and enables you to host, listen to, or talk inside a Space in an area of interest. In addition, you have the option to turn on subtitles for the experience.
Mixing up the forms of your information and engaging in conversation with your audience is essential to success on Twitter. To truly realize its potential as a platform, it needs connections in both directions.
What is Twitter marketing?
Thanks to Twitter marketing, businesses now have an up-to-date way of connecting with their existing consumers and potential new ones. It is a wonderful instrument for direct contact, for providing good customer service, and for making purchases.
Using Twitter for marketing reasons, such as promoting a product or service, raising consumers' knowledge of a brand, driving traffic to a website, and other similar activities is often referred to as Twitter marketing.
According to another survey by Statista, around 67 percent of all B2B companies currently use Twitter. Several companies worldwide use it for marketing purposes, and while this practice is not uncommon, there is one possible advantage to using this platform for this purpose.
How To Utilize Twitter For Marketing In 2023 And Why You Should Do So?
Twitter is not an exception, even though it differs from other platforms in a significant way; everyone continues to talk about the significance and influence that social media has on marketing. Hashtags and useful postings are what it is. So how should a firm utilize Twitter to include the site in its marketing efforts?
How?
It would appear to be sufficient to copy all of the content from other platforms and then post them on Twitter by only adding more hashtags; however, this is not the case. Yet, this strategy would not be successful because each platform has its characteristics and features that must be adhered to get the desired outcomes.
Therefore, after creating an account on Twitter, you should create a content plan that follows the most popular trending hashtags and news. This will ensure that your information is always up to date and suitable for the algorithms used by the platform as well as the demands of your audience.
Finally, establish a style for your business and combine it with Twitter's tools and tactics to build a catchy and memorable account so that your audience will eagerly anticipate your next post.
Why?
Your participation on Twitter will be pointless if you don't have some predetermined plan or goal before you start utilizing it. Hence, if you could respond to "why am I using Twitter" and "what else do I expect from it," it would be helpful. You need to be aware of the overarching response to the question before clarifying it.
It would be advantageous to use Twitter because thousands of millions of daily users represent a prospective audience that might assist you in becoming more popular and spreading your message to a wider audience.
How Can Marketers Make the Most of Twitter for Their Businesses?
Twitter is a helpful tool for companies to employ to boost engagement and awareness of their brands. You need to know your customer personas and produce content that is both fascinating and relevant if you want to succeed on any social media network.
Organic marketing on Twitter
There is much potential for marketing on Twitter, particularly from an organic point of view. Creating lists that will assist you in categorizing the stuff that appears in your feed is an excellent place to start if you are looking for a starting point.
For instance, compile a list of companies who are the leaders in their field, a product or service your firm is interested in, or rivals. You may also subscribe to groups for other accounts by going to the profile page of the account in question and following the instructions there.
You may organize your material to make it easier for readers to locate by using keywords and hashtags. Spend some time looking for the appropriate hashtags; when you do, pick ones pertinent to the field or specialty in which you operate.
Polls are an excellent tool for engaging your audience and learning more about their demographics. Incorporate polls into your Twitter content marketing strategy to encourage interaction and demonstrate that you care about your follower's thoughts. Be sure to share posts from other users and media additionally mentions that include your brand or a hashtag you're using.
You may also design customized hashtags for a product launch or event and branded hashtags that consumers can employ while tweeting about your firm. It is not necessary to use more than one or two hashtags in each of your posts; just one or two will do. You can find some amazing research tools for hashtags online, and these can assist you.
Twitter's paid advertising platform
Twitter can be used to increase engagement for campaigns, and you can utilize it for free if you aren't interested in taking the commercial way. On the advertising platform, you can target effectively. The dashboard allows you to monitor metrics like views, audience engagement, cost-per-result, and outcomes, which are actions you assign and may include site traffic.
It is a useful network for salespeople and digital selling, as evidenced by many businesses gaining clients via this platform.
On Twitter, you can choose from the following ad formats:
Promoted ads: Text advertising, photos, videos, carousels, and moments are all examples of promoted content. Sponsored tweets seem identical to regular tweets except that the word "Promoted" appears at the bottom of the tweet.
Ads for followers: This format may be used to advertise an account to a certain user base while also helping to boost the account's exposure.
Amplification through Twitter: There are two different methods that you may use to match your content with paid videos from relevant publishers: pre-roll advertisements or sponsorships
Twitter takeover: This feature allows your company to take control of timeframes or trends, giving your material a higher priority.
Twitter Live: Twitter Live is streamed video material that enables you to market your brand. You may access it here.
Twitter does not mandate a minimum amount that advertisers must spend; thus, the amount of money put into the platform is entirely up to the business. You can set a daily or total budget for your advertisements, and if you want Twitter to take care of the bidding process on your behalf, you may have it set to be automated.
Top Twitter Marketing Strategies in 2023:
If you want to promote on Twitter, you should be aware that it possesses a few elements that set it apart from the other major platforms listed and function differently. This implies that the marketing plan will be tailored specifically for that platform and that the content, along with any other relevant data, will be crafted in a manner that is acceptable for the platform's capabilities, requirements, and expectations.
The entirety of the marketing process will become more effective as a consequence, and the outcomes will demonstrate how well that method performed.
If you want to employ Twitter marketing in 2023, the following are the most vital actions that you should consider:
1. Establish A Timetable For Twitter Use.
To maximize your reach and impact on Twitter, you should plan to schedule the majority of your tweets in advance. Being able to tweet at the appropriate times makes maintaining an orderly account and a consistent schedule for tweeting much simpler.
On Twitter, it's vital to develop an active presence. Nevertheless, this mostly relies on the sort of company, the industry, the audience, the goals, and other factors that come into play when determining the ideal number of tweets. So, the frequency with which you should post new information on the platform will vary depending on your social media strategy.
You will be able to lead your Twitter marketing in a more efficient and structured manner if you schedule your posts on Twitter. This is because you will know in advance which your subsequent tweet will be, and there will be no emergency in which you need to think about what to publish.
A different narrative is that there will be occasions when you tweet on the moment based on current events, unanticipated scenarios, and other cases comparable to this one.
Thus, be prepared for these circumstances and have some pre-made templates to ensure your tweets are coherent and interesting to read. You can also use the services of a social media virtual assistant to assist you in formulating a marketing plan and a timetable.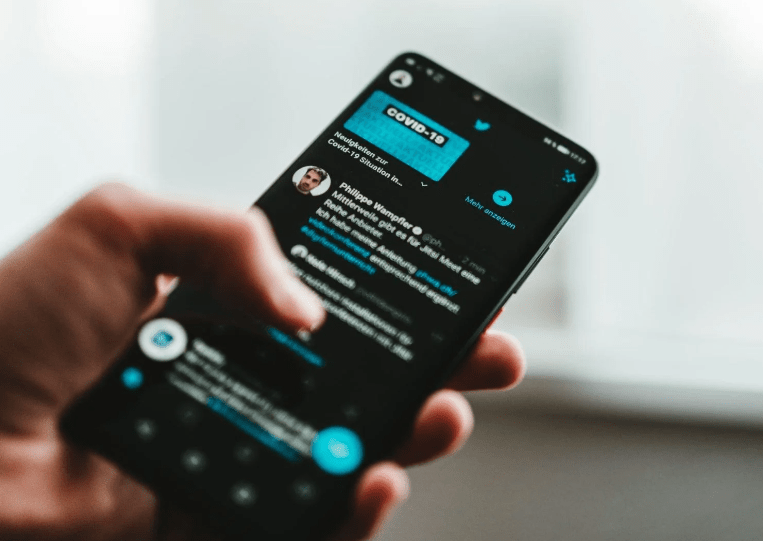 2. Audit Your Account
Get in the habit of doing audits first, then set up your Twitter account. Keep an eye on your various campaigns and postings to see what is successful and what is not. You will be able to study hashtags using the in-depth analytical tools that Twitter provides, determine which set of hashtags is best for the engagement of your account, as well as assess your performance and the behavior of your audience.
Thanks to the audit, you can improve your account's efficiency and communicate with the people you want to reach. Applying for our Bulkly platform, which offers randomized hashtag usage that is updated monthly, is something you may do if you want to utilize more specifically targeted hashtags.
You can strengthen your strategy and enhance your content if you find out what material your audience enjoys the most. This will help you to align your content with the desires and requirements of your audience.
Your account's engagement will go up, which means that the possibility of reaching a larger audience will become more likely than before. The audit will also indicate what does not work for your account, allowing you to save time by not repeating the same activities repeatedly.
3. Employ Advertising on Twitter
The promotion of your content throughout the entirety of Twitter through the use of advertisements is permitted. Users typically feel they are watching information from an account they already follow since advertisements are usually well-targeted.
Advertising on Twitter is based on performance, which means businesses only have to pay when the activity they were hoping for takes place. In addition, to promote there, no minimum amount must be spent. On Twitter, there are three different sorts of advertisements:
Promoted Tweets.
Promoted Accounts.
Promoted Trends.
Rather than waiting for organic reach, using Twitter's sponsored advertisements to engage your target demographic more directly is important. Promoted tweets make it possible to reach a larger audience, which improves business prospecting swiftly.
Those who don't follow your brand or use your hashtags might reach your profile through these. Take, for instance, the scenario where you are tweeting about renter's insurance. It would benefit you to employ Twitter advertisements so that a broader audience may see your post and learn about your services.
When you use a sponsored Tweet, your tweets will display on the timelines of other users with interests similar to those of your audience. It is recommended that you pay a monthly fee for sponsored tweets.
Viewers will always be aware of whether the advertisement they are viewing is paid for. Twitter advertisements can make achieving your marketing goals easier while increasing your efforts' efficacy.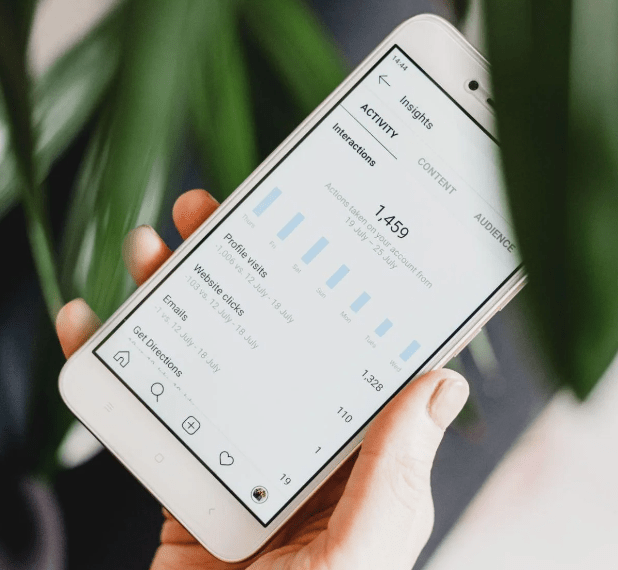 4. Engage With Your Audience
It is crucial to continually remain in contact with and relate to your followers on Twitter by including them in posts, reacting to their remarks and messages, and incorporating them in campaigns. You may do this by mentioning them in articles.
Thanks to Twitter's tools, you can have a more engaged experience with your audience and expand the reach of your postings. The greatest approach to be quickly found and to make your material visible to the public is to include hashtags related to your posts. In addition, there will be potential customers in the audience, which will benefit your company.
Connecting your audience will assist you in achieving your marketing objectives, establishing a connection of trust with your audience, and enhancing your ability to provide excellent customer service. As a result, it is crucial to produce information that will be fascinating to your audience and encourage them to connect with your tweets.
You will understand who your intended audience is and what they anticipate seeing from your brand over time if you maintain open lines of communication with your audience members.
5. Use Hashtags, And Keep Up With the Latest Trending
Hashtags drive most of Twitter's user engagement since they make your content more discoverable to a wider audience and bring everyone together. Tweets using hashtags are more likely to receive a higher interaction level than those that do not include hashtags.
Nevertheless, this does not imply that every hashtag is suitable for use with your company account and that you should do so. You could even create your hashtag for a particular campaign and then make it trending by including it in all its associated costs. Using hashtags is a fantastic method for amplifying the voice of your business and representing it to new consumers.
Consider the following scenario: you work for an insurance firm and are tasked with writing a post describing the many phases of developing an insurance marketing campaign. If this is the case, you should add pertinent hashtags from your article's marketing or insurance spheres so that people interested in this subject can quickly locate it.
Twitter now displays the subjects and hashtags that are trending, allowing you to constantly be informed of the most recent trends and leverage them if they fit your business's style and the reasons you are pursuing. In addition to that, you have the option of utilizing the Bulky platform, which is capable of automatically generating a large number of updates for various social networking platforms.
If you follow trends, you will always be up-to-date and new for your audience, and you will never miss a chance to differentiate yourself from other businesses in your industry. When launching campaigns, companies should use current trends to engage their audiences and incorporate the most talked about and trending topics that appeal to that audience.
6. Make Attractive Content
They began removing what they wanted to view when social media became prominent. It concerns both the look and the instructive portion of the material. People interact more with engaging material than dull stuff because they find it more enticing. Hence, remember to develop interesting content if you want to gain from hashtags.
It's about grabbing the audience's attention and developing a brand image with its aesthetic, colors, and other aspects while considering the layout and method of content representation. Use AI writing tools to save time and produce more focused material if you want to make your content more sophisticated and enticing.
The content strategy must be followed on both regular days and holidays. For instance, during the Mailcon marketing convention, organizers were tweeting about future key events, what advertising gurus expect, and other facts. Also, they employed various strategies (gifs, emojis, visual material, short educational sentences, etc.) to grab the audience's attention and convey the importance of the event.
It's critical to remember to provide worthwhile material on Twitter and keep the customer persona in mind while providing them with high-quality content. The material should reflect your account, how you publish it, what hashtags you use, and the main goal of the certain content because it also pertains to your brand's identity and image.
7. Have Specific Objectives
Setting specific, attainable objectives is essential for success on any social media site, and Twitter is no exception. Unless you are clear about your objectives, you won't be able to tell if your method or plan is assisting in expanding your company.
Of course, the objectives should always align with the mission and goals of your business. Yet, establishing specific, attainable goals can help you stay on track with your approach and identify methods to make it truly successful.
Once you've established your Twitter marketing objectives, monitor your monthly results to determine if you're progressing toward them or need to adjust your action plan to meet them quickly.
Collaborate with the experts on your marketing team to determine what metrics or cutting-edge techniques you should utilize to achieve your objectives. Then, test it on Twitter using new hashtags and the algorithm to see whether it works.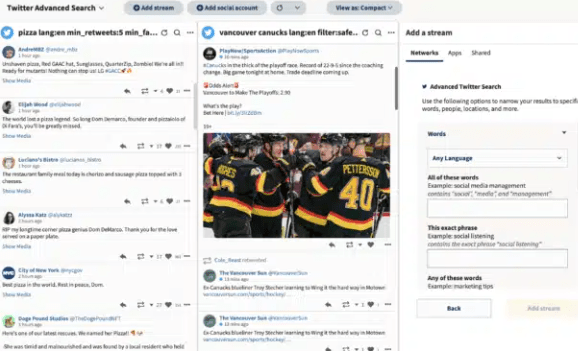 8. Engage in social listening
Twitter involves more than simply talking; it also involves listening. "Social listening" refers to checking for conversations on Twitter that might provide you with information about your audience and neighborhood.
You may learn from other hot topics and debates and what others say about popular brands and items. Building loyalty and trust and proactively addressing concerns and pain areas are all made possible via social listening.
You should focus on several subjects, such as:
Name of your company.
Names of the opposition.
Keywords or hashtags for the industry.
Relevant trending topics.
Discover what others are saying with Twitter's advanced search feature. Also, you may utilize Hootsuite to create streams that will keep an eye on hashtags, mentions, keywords, and other significant information.
9. Master the art of the thread
You can share a string of tweets with other users in chronological order by using Twitter threads. Consider a Twitter thread a chance to add longer-form information within individual tweets. These threads are organized in a certain way. This style is useful for presenting stories, offering further background, or providing updates.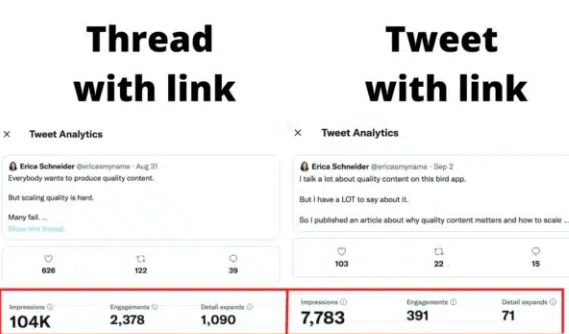 10. Utilize Video Marketing
The year 2023 will see the rise of video marketing. Videos receive the most attention from users on the internet compared to other online material. Videos are an excellent method to add important content to your Twitter profile in an engaging manner, which is one of the many benefits of using this medium.
You should try to be creative with the content of your tweets and include videos as a significant component of your marketing plan, for Twitter may have a significant influence on the user interaction that occurs on your profile in a way that is quite favorable.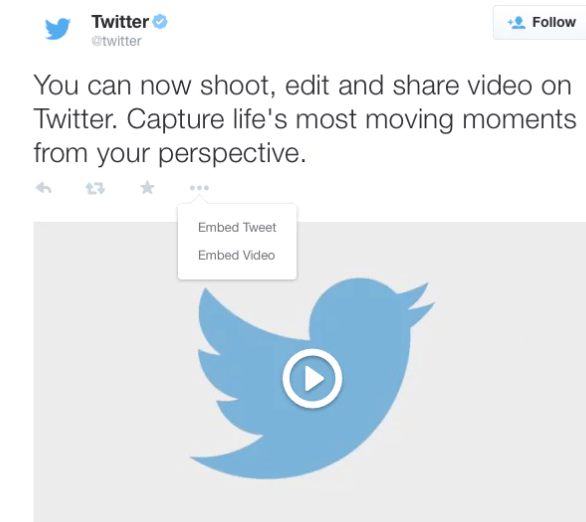 Tweets, including videos, receive 10 times more attention than plain text tweets. Increasing the volume of your Twitter presence is possible if you use the possibilities offered by videos. For a more user-friendly experience, ensure your Twitter videos are optimized for mobile viewing.
How can the success of marketing on Twitter be measured?
If you have developed a set of goals for your Twitter marketing campaigns based on the KPIs I stated in this paper, it will be easy to measure your efforts' effectiveness. Only by referring to the originally established goals can one determine whether or not a Twitter marketing campaign was effective.
Tweet marketing tools
You can organize your business, increase engagement, uncover opportunities, and more with Twitter tools. Below, we've included some of our favorite tools to help you with your Twitter marketing efforts.
·         Sprout Social.
Sprout Social is a tool that helps businesses sell themselves on social media. You can communicate with your audience directly within the application, schedule tweets, and do engagement analysis thanks to the management tool included in the app. In addition, it has a social media listening solution that will assist you in keeping up with popular topics and participating in real-time conversations.
Suppose Twitter is only one of the social media sites that you plan to utilize in your social media strategy. In that case, you may consider investing in a social manager like Sprout Social.
The starting price for a paid plan is $249 per month.
·         Canva
Canva is the solution for you if you want to create visual content but do not have graphic design abilities. You can access hundreds of pre-made Twitter themes that you may use in your tweets, even with a free subscription. These templates can be found on the Twitter website. Make easy animations, infographics, covers for your blog entries, and visual aids for your content by creating them. Regarding your content strategy for Twitter, Canva is an indispensable tool.
·         Hootsuite
Hootsuite is another effective marketing software that can be used for managing social media. You can manage many social media accounts from within the app, as Sprout Social allows. This tool allows you to schedule posts, manage advertisements, keep track of your feed, and much more.
Mailchimp, Hubspot, and Shopify are some marketing tools that can be integrated with Hootsuite. This feature makes Hootsuite a simple choice for users using several other applications.
The plan with the lowest monthly cost is $99, with a free trial period of 30 days.
·         TweetDeck
TweetDeck is a dashboard designed specifically for Twitter that simultaneously enables real-time management and monitoring of numerous Twitter accounts. You can build individualized streams with TweetDeck, which enables you to monitor mentions, hashtags, and several other important indicators.
Because TweetDeck is free and officially approved by Twitter, you do not need to create a new account immediately, which is a significant advantage.
Bottom Line
In conclusion, This Ultimate Guide has given businesses and marketers a thorough and current resource for utilizing Twitter for brand development and consumer involvement. Users may develop an efficient and flexible approach to help them succeed in the always-changing digital environment by comprehending and utilizing the most recent features, trends, and best practices.
Maintaining success in this fast-evolving world will depend on staying educated and adjusting to new technology. Businesses may fully utilize Twitter as a marketing tool and build deep relationships with their target audience by adhering to the tips and advice offered in this book.